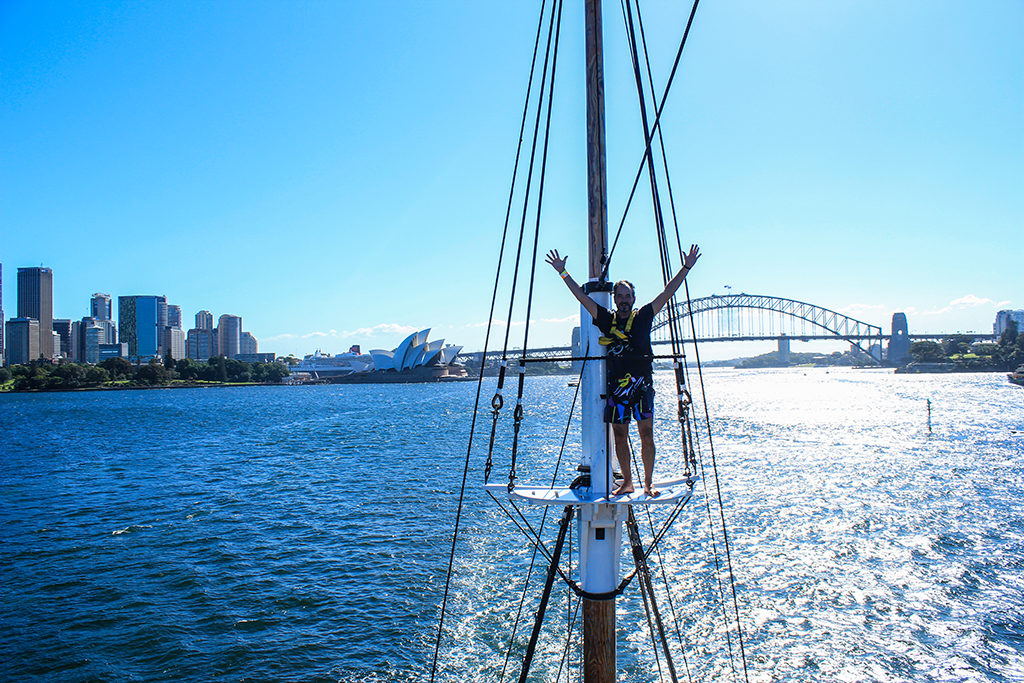 Add Mast Climber to Your Skill Set with Sydney Tall Ships!
If you're looking for a new activity to get your heart racing, maybe it's time to give mast climbing a try, for your view of the Sydney Harbour! Scaling the mast of your tall ship isn't an experience that can be discounted so easily – it's a great way to add a memorable moment in your life to look back on, and makes for a great story to tell. So, if you've already booked or you are looking to book a Sydney Tall Ship cruise and are planning to be a mast climber, here are some of the things you should know about.
A Preface To Our Safety Measures
As our top priority, the staff of the mast climber experience will have all the right equipment ready, including a full body harness with a fall arrest system, so rest assured – your safety is always of utmost importance to us.
Our Recommended Activities To Pair With Your Mast Climbing Experience
Though enjoying the view from the heights of your ascent makes the mast climb a memorable experience, that's not to say that it can't be elevated – pairing the climb with our other offered cruises can give the event context to look back on, and its highlighted place as the 'grand finale' of a day's worth of activities, entertainment and sailing.
Laser Clay Shooting With Your Mast Climb
For the full sense of being a swashbuckler, our Laser Clay Shooting cruise adds a sharp-shooting competitiveness to your day out on the harbour, as you and your friends take aim and fire to determine the best marksman among your crew!

Equipped with laser rifles, a clay target is launched into the air at varying speeds and angles in skeet-shooting fashion, and points are racked up in a scoreboard for those who are able to hit the target the most. Micro-chipped to detect your rifle's fired light, the activity is completely harm-free from affecting those around you and the environment you'll play in – rest assured, you can focus on keeping up your best aim possible!
With the mast climb included as part of the package, the full suite of the pirate-life becomes your day spent with us – hoisting the sails, witnessing the view at the height of the mast, and sailing the ship itself makes the Mast Climb the perfect pairing to your Laser Clay option.
Pirate Ship Experience
What better way to combine your Mast Climbing challenge than to embellish your pirate experience aboard an actual pirate ship at Sydney Tall Ships! Make your way to the ship's mast top, and scout out the horizon as a key crewmember of Captain Pineapple's outlaw voyage and his band of pirates.
Immerse yourself in all the essential aspects of a crewmember maintaining their pirate ship – setting the sails, outfitting yourself in a pirate's clothing, and finding yourself as a part of the pirate narrative are all part of the package here, alongside entertainment provided by the crew, captain, chef and barman.
Add Becoming a Mast Climber to Your Bucket List
Even though becoming a mast climber might seem very overwhelming, it can be extremely gratifying. If you have already booked in your activity, you're surely in for a good time – if not, contact Sydney Tall Ship Cruise to get started!