Sydney Harbour Cruises with Sydney Tall Ships
Check out what tall ship experiences we have on offer.
THE UNIQUE HARBOUR CRUISE SYDNEY EXPERIENCE
Our Most Popular Cruises
SYDNEY TALL SHIPS NEWS
Australia Day Celebrations at the Sydney Harbour A day historically celebrated to recognise the emancipation of Australian convicts, the meaning […]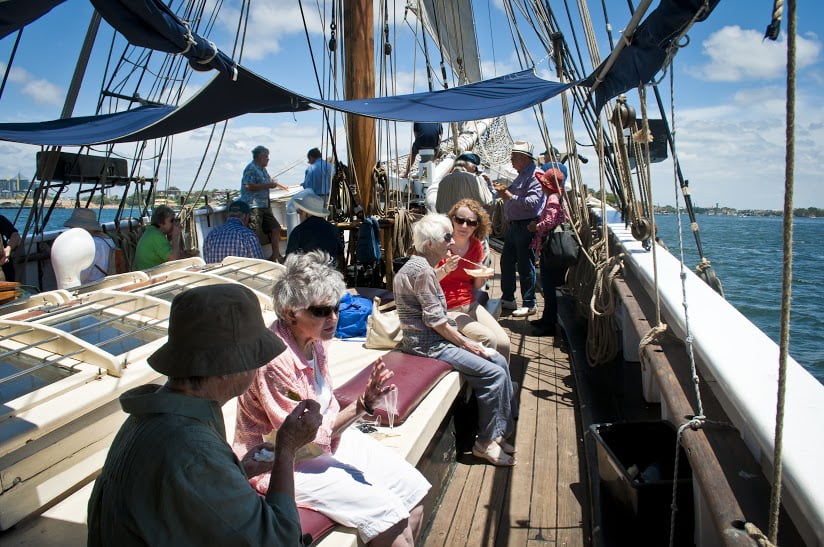 Customer Reviews
Wonderful, Leisurely Sail Around Sydney Harbour
A thoroughly enjoyable jaunt, and so quintessentially 'Sydney'.Much more relaxed and easy going than expected, with great laughs and plenty of history with host Howard and Captain (?) Andy.A really great way to see all the sights of Sydney Harbour, including some very interesting buildings complete with informative commentary. We loved the friendly, nostalgic atmosphere on the ship.The mast climb was a highlight of our Sydney trip.
Awesome Sunset Cruise
What a great afternoon/evening. Keegan (the M.C.) was great as were the rest of the crew. Really friendly & helpful AND the "deck girls" – fearless. (climbing up the rigging & setting the sails) Sydney harbour was as always – magnificent. Food was great as were the people we met on board. The mast climb is an ABSOLUTE MUST and the views of Sydney Harbour from the Crows Nest are out of this world. Hardest part is getting the world to hold still whilst you try to take pictures up the mast. !!! Summary…. MUST DO.
Mast Climb Was Amazing!
Coming from Sydney I was not sure I would enjoy. How wrong can you be! It was great, Sydney turned on a gorgeous day and I would highly recommend the mast climb, it was a little hard work for us over 50's but I got there in the finish.
A Must-do Experience
I have lived in Sydney all my life, but to see the city skyline at sunset & lit up at night from out in the harbour towards Watsons Bay was a new experience. It was fantastic, must-do experience!
Tall Ship Experience, Lunch Cruise
Vintage sailing on Sydney Harbour is quite indescribable. Not to be missed (or forgotten)! A great ship, great crew and great food made for an absolutely splendid sailing adventure.
Great Way to See Sydney Harbour!
I have lived in Sydney for over 36 years have never seen the harbour quite like this before. This is a magical experience whilst taking a step back in time. The crew were so friendly, the food was great and the view spectacular. I couldn't think of a better way to spend an afternoon!
Great Day Out
What a fantastic day. Well organised, excellent food. Great helpful staff who really knew their stuff. I would recommend to anyone with a love of boats or anyone wanting a great way to see the Harbour.
Highly Recommended
I would highly recommend this cruise to anyone who is looking for an enjoyable & relaxing couple of hours on the Harbour. A wonderful experience to be aboard a Tall Ship with such fascinating history. This is a must do cruise!!
Best Way to See Sydney Harbour
The best way to see Sydney is from the Harbour. The boat and the sails were extra special; we even had the opportunity to climb up the Mast to get an extra special view of Sydney. The staff were professional, welcoming and encouraging. Spend the afternoon with the fun crew at Tall Ships and have a ball.
Thrilled with Every Moment
We chose the afternoon sailing cruise and were thrilled with every moment. Sydney looks its best from the deck of a real ship, with the breeze on your face and a cool drink in your hand. We had an absolutely splendid, entertaining and interesting sailing adventure, on a great ship with a great crew!
Unique Sydney Harbour Cruise
A spectacular and relaxing way to see Sydney from the harbour. Raise the sails, turn off the engine and float along whilst sipping a flute of bubbly, viewing Sydney in a truly unique way. Top marks to all!
Spectacular Sydney Harbour Cruise
What a wonderful combination of hospitality, food, bubbly, and a great experience on board! You can get involved in sailing the ship, or, like me, one can just kick back, be a champagne member of the crew and love spectacular Sydney Harbour from the deck of a beautiful Tall Ship.
Incredible Sydney Harbour Views
A step back in time on the most spectacular harbour. Incredible Sydney Harbour views with a very friendly crew. What a great experience on a well-cared for and much loved tall ship. Watching the sails rise was a highlight and it was lovely to be able to simply explore the ship at leisure.
Traditional Sydney Harbour Cruising
I admire these people for wanting to keep the tradition of these majestic sailing ships alive. The boat is beautiful, the food and wine superb and Sydney at sunset is striking.
Canapés Delicious
The great thing about this cruise is the charming crew, full of life and love for their job. The cruise is a step back in time, the wine and canapés delicious, the entertainment lovely. I could have gazed at the waves, the wind and the sails forever. If you love sailing, or being on the water this is an incredible way to experience Sydney Harbour.
Romantic All-Inclusive Night Out
Drinks and canapés were served in abundance as we motored out to Sydney Heads and the beautiful scenery passed us by. I would definitely do this again; it was a relaxing, romantic all-inclusive night out.
Great Experience – Highly Recommended
Great host in Andrew and Captain Andy and friendly crew. Great experience, much more interesting than your normal pre-recorded tour boats with no character. Book early as may be full and therefore unavailable on your stay in Sydney! Highly recommended. Kids 7 (boy)and 9 (girl) and both loved it.
New Year's Eve Cruise on Coral Trekker
Dear Nice and all at Sydney Harbour Tall Ships, We want to thank you all for the most fantastic evening on board The Coral Trekker. Please pass on our thanks to the Captain ( Andrew ? ) and all his crew who made the evening so special . The food and the odd glass of Champagne were just right for the occasion. The main event and the reason for being on board The Coral Trekker — The Sydney Harbour New Years Eve Fireworks – Were way beyond our expectations and made all the more spectacular by the Captains ability to position his ship into the perfect viewing location. In our view the only way to see and enjoy the Sydney Harbour New Years Eve firework display is on board " The Coral Trekker". Well done everybody and wishing you all a HAPPY NEW YEAR and a Successful 2023.
Educational Experience on Sydney Harbour
I would just like to thank you for such a wonderful, entertaining and educational Experience. Our family had the most fantastic time. The food was great, the crowd was happy and the guides were so professional and informative! It was really a day to remember!
Keep Up The Good Work!
We thoroughly enjoyed the afternoon and have not stopped talking about the whole experience! From the time we boarded and were welcomed, nothing was too much trouble. Congratulations you are doing a great job of showing Sydney and part of our history to tourists and the locals!
Excellent Historical Tour on Sydney Harbour
Thanks for a most enjoyable and informative cruise of our harbour and Goat Island last Saturday. Our guide's knowledge and presentation of the historical aspects behind our early history was first class. I would recommend it others and especially visitors to our city. WELL DONE Crew!
Great Day Out on Sydney Harbour
I thought this trip was excellent with all the activities available, when it is over you want more! An awesome day on the harbour.
Highly Recommended
I can't say enough for this activity it was FANTASTIC! As well as laser clay shooting they ran mast climbing where two people could climb the mast of the sip and hang out in the wind. I cannot recommend this enough people, get out there and take a sail with the boys! Also get involved in the activities as well, really makes the trip.
Awesome Sydney Harbour Cruise
Fulfilled my ambition of going on a tall sail ship, a great way to do it! This is a must if you like old sail ships and it's a great way to experience the harbour. The activities on this cruise are awesome!
The Ship is a Beauty
Sydney Tall Ships provided a great harbour experience for the Google crew… Our expectations were exceeded for sure. The mast climb was thrilling… And the ship is a beauty!
Real Professionalism
I just wanted to let you know how pleased I am with Tall Ships Cruises. Nothing was too small or too big for your staff and they managed all our tedious requests with a smile and real professionalism. I am glad to have come across your organization. Microsoft is grateful to have chosen Tall Ships in catering for our event. Thank you.
Loved the Southern Swan
We absolutely loved our time aboard the Southern Swan. Not only did it perfectly fit our theme (pirates, of course), but the crew went out of their way to really make sure we had a great time. Having done a few harbour cruises as part of team building and corporate exercises, this is definitely one that sticks out the most in my mind. The Mast Climb was exhilarating and we'll definitely keep it in mind for future events. Thanks again to everyone at Sydney Tall Ships and until we sail arrrrrrrgain me mateys!
A Big Hit with our CEO
From the moment we contacted the team at Tall Ships we found the service to be professional, courteous and nothing was ever a problem. All our needs were accommodated for and the afternoon was a big hit with our CEO, MD and members of our Senior management team. I would highly recommend Tall Ships to anyone thinking of this type of event.
Enjoyable Time on the Water
Our staff had a lovely time out on the ship and quite a number of them climbed the mast as well. Despite slightly cold weather, it was really enjoyable time on the water. Many thanks to you and your team for making the last part of our conference so special.
Perfect way to enjoy Sydney Harbour
We took a 2.5h sunset cruise on the Soren Larsen for a large group from work.Sydney harbour is a real natural wonder and seeing it from a beautiful period boat was spectacular.The ship itself was wonderful (solid oak, real sails and rigging etc.) and had actually made the voyage from Denmark to Sydney. Plus, you could climb up it :-)The staff were knowledgable, entertaining and couldn't have done more to look after us. Personally I really enjoyed learning about the history of the boat and it's voyage around the world to reach Sydney.We also enjoyed food and drinks on board which were pretty varied and very good.Highlights of the trip were mast climbing, cruising back from shark island using wind power only and watching the sun go down to be replaced by the Vivid lights.Overall this was a great team event for us and I wouldn't hesitate to recommend it.
GET IN TOUCH
"*" indicates required fields
Our Vessels
To locate where your cruise departs from, please check our departure locations.
Ticketing Centre: (02) 8015 5571
International: +61 2 8015 5571
Address: Campbell's Cove Wharf 2 Pontoon, The Rocks, NSW
Opening Hours: 9am to 6pm – Monday to Sunday
Office Contact Details